New rule to prompt University of Michigan to re-examine holdings of Native American human remains
The University of Michigan will have to re-examine its holdings of Native American human remains under a change to federal guidelines announced today.
The U-M Museum of Anthropology has about 1,400 human remains in a storage facility that are 800 to 3,000 years old.
The 1990 Native American Graves Protection and Repatriation Act, known as NAGPRA, requires museums, federal agencies and institutions to inventory holdings of human remains and identify their cultural affiliations with tribes. Native groups can then claim the return of remains deemed to be culturally affiliated with them.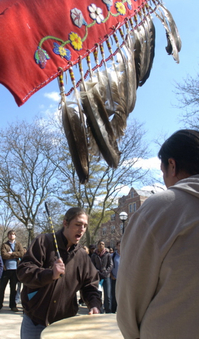 Ann Arbor News file photo
What to do with the vast number of human remains where cultural identity hasn't been determined hadn't been fully addressed in the law and has been a sticking point between the University of Michigan and some Native American groups. U-M has designated the 1,380 human remains it stores "culturally unidentifiable."
Under the rule change, U-M museum officials would need to alert modern-day federal tribes of any "culturally unidentifiable" human remains it has that were discovered near areas the tribes historically occupied. Those tribes could ask for the remains to be returned based on the geographic link. A national review committee would settle disputes between tribes. The change will take effect in May.
rest at
http://www.annarbor.com/news/new-rule-prompts-university-of-michigan-to-re-examine-holdings-of-native-american-human-remains/